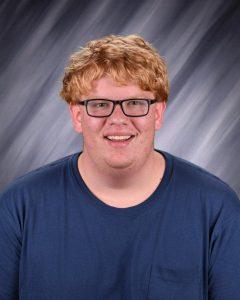 Christian Opportunity Center (COC) selected Eddyville-Blakesburg-Fremont High School's Carson Setter as the 2022 Sarah M. Braun Memorial Scholarship recipient.

Named in honor of the late daughter of former COC Executive Director Rod Braun and his wife Robin, a current COC employee. This scholarship is made possible by the COC Foundation Fund. The $1,000 scholarship is presented to a high school senior pursuing an academic focus in human services.

Setter plans to major in Psychology at Wartburg College beginning in the fall of 2022, pursuing a future in human services. He hopes to break the mental health stigma and make mental health care more accessible. Carson says, "I hope to be able to be a voice for those who can't be heard. I want to be an ear for those who feel they are unheard. I want to be able to be a person who can make a difference in this world. I want to be able to use my time to help benefit those around me, and I think the way that I am to do that is through human services."
Son of Stu and Wendy, Setter achieved a 3.98 GPA during his high school career and received  accolades, including the Governor's Scholar Award and Top 5%. Setter was also involved in Mock Trial, Theater, Academic Bowl, Student Council, Speech, Band, Choir, and FBLA.

Criteria for the scholarship include academic performance, extracurricular activities, community involvement, and personal character and personality. Applications for the scholarship are accepted from all COC service areas.