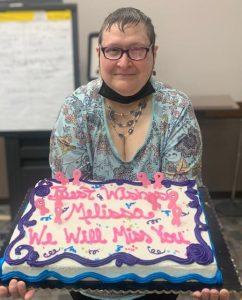 Melissa Elko celebrated retirement after 38 years of service at COC. Elko began her journey with COC in 1984. She has held various positions at COC over the years, her heart for individuals with disabilities has never diminished.  
When asked about her time at COC, Elko stated, "Many of my favorite memories at COC revolve around music." Over the years, she made it a point to have unique connections with the individuals she supported. Often, she would find a special song, mostly old bible hymns, for each person.he was known to sing to the people supported throughout her shift. Each night many of the people she supported looked forward to her singing "Good Night, Adios, Au Revoir, Auf Wiedersehen" by the Lawrence Welk Stars.
Elko recalls one memory when the Central College football team come to volunteer at COC. The staff and volunteers were working on a craft activity, and some of the volunteers questioned if the people supported would be able to do the activity.  She remembers how much joy she took when the volunteers realized that with modifications, the people supported exceeded their expectations and completed the craft. 
During her time at COC, Melissa has continued to fight a courageous battle with cancer. In 2011, she was first diagnosed with breast cancer. The next few years were filled with surgery, chemo, radiation, and prayer, but she was declared cancer-free. Then in 2018, metastatic cancer returned, and she continues to fight to this day. Her retirement will allow more time to focus on her health and well-being. However, she will continue to work as a substitute at COC. 
Her supervisor Liz VanderWerf, said, "Melissa has been a blessing to COC in several different departments just most recently for ours.  She is a truly one of a kind."  Everyone at COC wishes Melissa the best of luck in retirement, she will be missed.