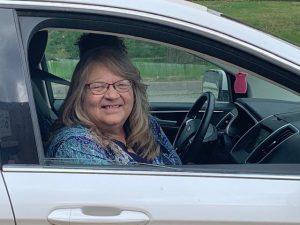 Christian Opportunity Center (COC) would like to announce the retirement of Sheri Harper after 20 years of service. Harper started her career at COC in October 2000 as a Program Coordinator.  Harper began her career in disability services after graduating with a degree in Human Services and Sociology from William Penn. She worked for another disability services agency in Oskaloosa before coming to COC.
Harper has served as a Program Coordinator since October 2000. She worked for two years in the Pella region and then moved to the Oskaloosa region, where she ended her COC career. During Harper's tenure as Program Coordinator, she played a critical role in coordinating the programs for people with disabilities to ensure their well-being and assist them in reaching their personal goals. 
When asked what significant changes she has seen in the disability field throughout her career, Harper stated, "Moving individuals from state institutions to Home and Community Based Services (group) homes was one of the most heartwarming changes for me. Seeing individuals (with disabilities) who grew up in institutions become more independent and learn that this is their home. They can get a drink of water, get into the refrigerator, and have a say in what they wanted to do without getting permission was both challenging and rewarding at the same time. Watching how these individuals interacted with others, seeing the joy on their faces, and knowing how they were when they first left the institution is the best."  
Due to COVID, COC celebrated Harper's retirement with a drive-thru open house. Staff was able to socially distance while sharing memories and thanking Harper for the difference she has made in so many lives.
As Harper reflected on her time at COC, she stated, "I have a book of fond memories I am taking with me from my years at COC. There are so many funny and heartwarming stories I have to look back on.  Experiencing their deep faith in
 God, hearing the heartfelt prayers shared by the individuals we support and seeing others' compassion has been so rewarding and even overwhelming at times. I truly have received much more than I have given. COC is an amazing
organization, and I have been blessed to have been a small part of its mission. I have formed true friendships and have been lifted when I was down."
Harper plans to travel with her husband and grandkids once the world gets back to normal. She also plans to make a family cookbook to share with my children, nieces, and nephews to pass family recipes on to their families.