After nearly 44 years, Christian Opportunity Center (COC) has closed the doors to the Sheltered Employment Program for the final time.  COC's Sheltered Employment Program began in 1974 when COC recognized a need for adult vocational services.  On April 27th COC employees, persons supported, and families joined together to honor the success of COC's Sheltered Employment Program.  Although COC has maintained a Supported Employment program for the past several decades, the closing of the Sheltered Employment Program is part of state and federal regulations that are encouraging persons with disabilities to be fully integrated into community employment.  For more information on reasons why Sheltered Employment is closing, click here.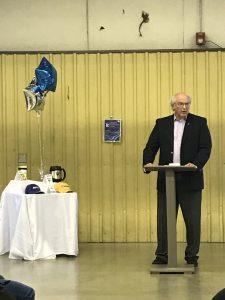 The celebration event was held at the COC Plants in Pella and Oskaloosa.  The event looked at the impact the Sheltered Employment Program has had in the communities over the past 44 years in Pella and 29 years in Oskaloosa. The ceremony recognized local businesses who had provided contract work that allowed COC to provide Sheltered Employment.  Executive Director Rod Braun discussed these partnerships, "We have been so blessed by the local businesses, that it has just been amazing.  One of the criticisms of sheltered employment is that it isn't 'real work'; everything we have done in this plant has been real work and has made a difference in the local economy."

Cathy Wilson, Sheltered Employment Program Manager, also recognized the COC employees for their dedication to the people COC supports, "They've created a caring environment and direction for all of you here to learn new skills and prepare you for whatever your future holds."

The event also focused on the future of the vocational program. "Everyone is moving to something that God has planned for you. We are moving forward to better things; whether it is retirement, life skills or other jobs, I look forward to the next step.  We have had six persons supported get jobs in the community this last month, that is impressive," Cathy Wilson stated.  
Vocational Regional Director Kim Koellner ended the ceremony by talking to the individuals that COC supports and their families, "We know we have a lot of great opportunities ahead of us.  COC is definitely going to be here for you.  Whether it's through the jobs, through life skills, or residential."  
In other news, COC will open a Life Skills program in Knoxville in May.  Life skills is a non-work-oriented day habilitation program that focuses on teaching independent living skills, social skills and communication skills in an integrated community setting.  COC will also expand its residential services in Oskaloosa this summer with a new group home.