Russ Houghton of Indianola retired for the second time in his lifetime on New Year's Eve.  Houghton's first retirement was from Cement Tech in Indianola. On his last day at Cement Tech, Christian Opportunity Center (COC) offered Houghton a Living Sills Advisor position.  A Living Skills Advisor is responsible for the supervision and providing interactive training for people with disabilities in group home settings.  After 12 years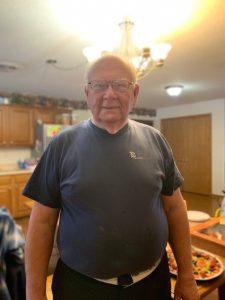 working in different locations at COC, Russ has decided to retire for the final time, as stated in his resignation letter.
Houghton has worked most of his career in COC's Indianola Home and Community Based Services (HCBS) residential programs and worked as a substitute in other COC programs.  Christie Avant, Houghton's supervisor, said, "Besides being a dedicated staff working overnights, then moving to early mornings, Russ has blessed People Supported and staff with conducting Bible studies. Russ always has a positive attitude and calming demeanor."
During Houghton's time at COC, he recalled many fond memories of the People Supported and staff at COC and often boasts that he could write a book with all his memories. After re-entering the workforce after his retirement, he was very pleased with his experience at COC.  Houghton mentioned COC's interview process and the many perks that the COC's Staff Enhancement Fund offers COC employees.
Houghton and his wife have six children, three of whom have also worked at COC.
Avant continued, "He will be greatly missed by the People Supported and all of his co-workers!" Everyone at COC wishes Russ a happy retirement and thanks to Russ for his many years of service to COC.