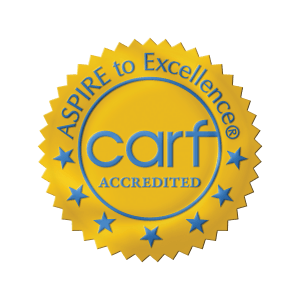 Christian Opportunity Center has been awarded a Three-Year Term of Accreditation from the Commission on Accreditation of Rehabilitation Facilities (CARF) for its Community-Based Employment and Life Skills programs in Indianola, Oskaloosa, and Pella.  This latest accreditation is the 14th consecutive CARF accreditation that has been awarded to Christian Opportunity Center (COC).
CARF is an internationally recognized, nonprofit accreditor that sets standards of excellence for human service organizations. Those programs who meet CARF's standards have demonstrated a commitment to being among the best available.
An organization receiving a Three-Year Accreditation through CARF has voluntarily put itself through an extensive internal review process and has then demonstrated to a team of expert practitioners during an on-site survey that it conforms to the rigorous CARF conditions and standards. Due to Covid precautions, the survey for COC was conducted virtually on September 11-15, and COC was notified of the accreditation award on November 1st. 
Disability services in central Iowa is a highly competitive field, and often people with disabilities have several options for services.  Having an accreditation through CARF is a sign of quality that can be a useful tool for individuals with disabilities and their families when choosing a quality disability services provider.