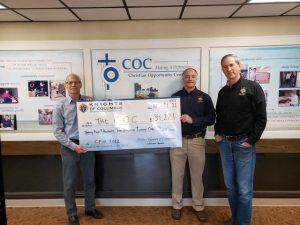 Christian Opportunity Center (COC) offers services to over 200 people with disabilities, supporting them in living, working, and worshiping in the communities of their choice. COC cannot do this alone. COC partners with many local employers, churches, and organizations to help the people COC supports reach their full potential. The Knights of Columbus (KoC) is one organization whose support has allowed COC to further its mission for several years. 
The Pella KoC has been a champion for people with disabilities for the past 24 years. The Pella KoC recently held its annual Campaign for Individuals with Disabilities (CID). The CID starts with the famous tootsie roll drive, but for the 2nd year in a row, the Pella Knights of Columbus took a unique approach to expand their efforts by hosting the very successful Pellathon Variety show, meeting their goal of raising $60,000 for individuals with disabilities in the Pella area.  
Last week the Pella KoC offered donations to the Pella Community Schools Special Education programs, Pella Christian Schools Special Education programs, Iowa Special Olympics, 818/Forward with Faith, and Dollars For Scholars. The Knights also blessed Christian Opportunity Center with a donation of $34,221, the largest KoC donation to COC.  
"The Knights of Columbus in Pella held an extraordinary fundraiser in support of people with disabilities in Pella. Their generous donation will enable COC to purchase a wheelchair-accessible vehicle to provide transportation in the Pella community," said John Eilers, COC Executive Director. COC is thankful to the Pella Knights of Columbus, along with all our community partners, for their ongoing support of individuals with disabilities and for continuing to support the mission of COC.
For more information on the Pella Knights of Columbus, visit http://iowakofc.org/ or connect with Pella Knights of Columbus #12334 on Facebook.